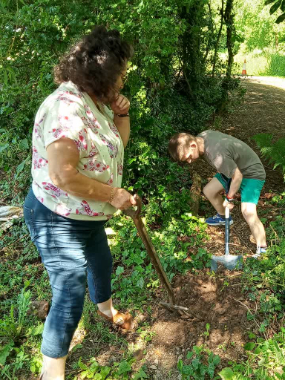 When it comes to working hard and serving others, Elder Ben Powell, volunteer service missionary for The Church of Jesus Christ of Latter-day Saints knows just what is needed to help someone. He will be one of several hundred volunteers assisting with the British Pageant this August in Chorley, Lancashire.
Currently, Elder Powell works two days a week giving service to his community and to individuals. Whether it's digging and weeding gardens or washing and curling hair, Elder Powell finds a way to make life easier for others.
Sheila Powell, his mother says, "Ben is fun-loving and kind. He helps everyone who is sick. He helps all expectant mums and his housemates."
Because Elder Powell is interested in the work of paramedics, he hopes to help in some way with the local Air Ambulance charity shop as soon as the paperwork is completed.
"Ben also enjoys music, conducting, and loves the Church, " says Sheila. "He wants people to understand more about the Church too. Those are some of the reasons why he volunteered to be a part of the British Pageant team."
Steve Edwards, Security lead for the British Pageant says, "I am delighted to have Elder Powell join us as a volunteer on our team for the British Pageant this year. Service missionaries are fast growing in numbers, and this is an excellent example of the variety of service that they can perform and how people of all ages, talents and abilities can make a contribution to helping others and being a real part of the missionary effort across the world. I look forward to getting to know Elder Powell and serving alongside him."
Sheila will be Elder Powell's partner and supervisor as he helps direct traffic or wherever he may be needed at the Pageant. She considers it a privilege to help her son help others.
No wonder Elder Powell says "I want to help at the British Pageant. I want to help Jesus."
The British Pageant performances will be Wednesday 2nd – Saturday 5th, and Tuesday 8th – Saturday 12th August 2023 on the Preston England Temple Grounds in Chorley, Lancashire.
Attendance is completely free of charge. Click here for tickets and more information.