James McCrudden and Andrea McCrudden have been called to serve as the new mission president and companion in the Scotland/Ireland Mission for The Church of Jesus Christ of Latter-day Saints. They follow the faithful service of Mark Alaster Macdonald and Denise Robb Macdonald.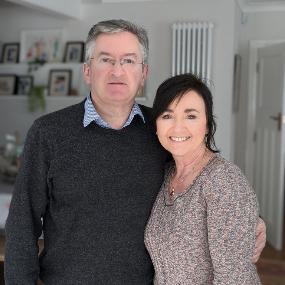 As leaders of the Scotland/Ireland Mission, they will lead, supervise and train a group of young missionaries to effectively teach religious principles as well as find ways to serve others and the community.
Andrea said, "We fully understand the importance of family.  We want the missionaries to see the people that they teach – going to the Temple and being together forever as a family."
Jim and Andrea are both converts to the Church.  Andrea was baptised as a young girl when her mother joined the Church. Jim was a patient in a hospital were Andrea worked as a nurse.  Following Jim's stay in hospital he and Andrea dated.  Jim was interested in the church Andrea attended and was taught by the missionaries and baptised.  Jim was brought up as a Catholic.  His joining The church was not an easy journey for him, as he received much opposition from his family.  A year following his baptism, he served a two-year mission to the Washington Spokane Mission USA.  Following his mission, he and Andrea were married.
Jim and Andrea have 5 children: Aimee, Allen, Cameron, Eve and Bethnay.  They have 7 grandchildren.  Their second child, Allen died of congenital heart disease when he was 2 weeks old.  Jim and Andrea have always aimed to stay faithful, knowing that if they do, they will be with Allen again.
The Church was small in Ireland when Andrea's family were baptised.  She has witnessed the growth of The Church through the efforts of members and missionaries.  Andrea also places a special emphasis on family and being a mother and grandmother. 
Jim is a Seminary and Institute Coordinator and loves to teach.  Jim and Andrea are looking forward to working with the missionaries and plan to place a special emphasis on each mission as preparation for life.  Their ambition for the missionaries they lead is to help prepare them for Church leadership, marriage, have a family and generally preparing for life. 
"We hope to be able to have each missionary reach their potential as individual leaders.  We love the missionaries, and they hold a special place in our heart"
The McCruddens begin their service in July.