As of August 1st, a new presidency will begin serving in the Europe Area of The Church of Jesus Christ of Latter-day Saints. Patrick Kearon will serve as area president, Paul V. Johnson as first counselor, and Timothy J. Dyches as second counselor. The Europe Area is one of 15 international areas.
Under the direction of the First Presidency and Quorum of the Twelve Apostles, area presidencies provide spiritual and administrative direction to the leaders and members of the Church in their areas. The presidencies of the various areas change every few years, and with these changes in assignments come fresh viewpoints and renewed vigor toward the office.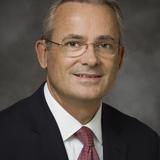 The new president, Elder Patrick Kearon, has lived in the United Kingdom, Saudi Arabia, and the United States, and has worked in various industries, including health care, food, transport, and automotive. He also ran his own communications consultancy before being called as a General Authority for the Church. He was baptized into the Church at the age of 26, a few years after his first contact with Latter-day Saints. Two years later, Elder Kearon met his wife Jennifer Carole Hulme. They have four children, one of whom is deceased. After working alongside Elder Kearon for the past two years, Elder Dyches believes that because of Elder Kearon's life experiences, "he has a personal connection with the youth and the missionaries – and their imperative purpose."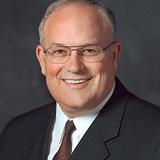 Elder Paul V. Johnson, who serves as first counselor, studied at Brigham Young University, earning degrees first in zoology and then in counseling and guidance. He went on to receive a doctorate in instructional technology from Utah State University. As a young man, Elder Johnson served his Mission in the Norway Oslo Mission. He has also served in the Chile Area Presidency prior to his calling as Commissioner of Church Education starting in August 2008. In reference to his new calling in the Europe Area presidency, Elder Johnson says: "In the next few months and years, I am most excited about working with and getting to know the great saints in the Europe Area."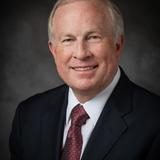 Elder Dyches, second counselor, attended Brigham Young University, where he earned a bachelor's degree in university studies. He then received his medical degree and specialty training at Washington University Medical School in St. Louis, Missouri. Shortly thereafter, he began a private practice performing ear, nose, and throat surgery until 2008. In 2012 he was made vice president of operational development at Ambulatory Surgical Centers of America. He served a mission in the Germany South Mission as a young man, and as president of the Oregon Portland Mission.
While the members of the Europe Area presidency have changed, the presidency's overall desires and objectives for the Europe Area have not. "We have seen a steady push forward with clear goals in mind," says Elder Dyches, speaking about the past few years. President Kearon says that the presidency's main priority remains to encourage members living within the Europe Area to focus on the Area Plan, which is comprised of three goals. They are: 1) Bring a Friend, by cultivating both a spirit of inclusiveness and a genuinely welcoming attitude with those of all faiths or no faith at all, 2) Become Spiritually and Temporally Self-Reliant, and 3) Find an Ancestor and perform sacred ordinances for them in the temple. In temples, Latter-day Saints conduct the highest sacraments of their faith – for themselves and vicariously in behalf of their deceased ancestors.
 "Living the gospel brings great peace and joy into our lives. The purpose of the plan is to help all of us receive and recognise the blessings that naturally flow when we strive to achieve these goals," says President Kearon.
Elder José A. Teixeira, the former Europe Area president, served in the area presidency for six years, and is now assigned to the South America South Area with his wife, to serve as second counselor there. "The Teixeiras were such a blessing and asset to us all," says Elder Dyches. President Kearon says: "Those who served with Elder Teixeira agree that his sharp intellect, analytical ability, and incredible faith make him a wonderful leader."