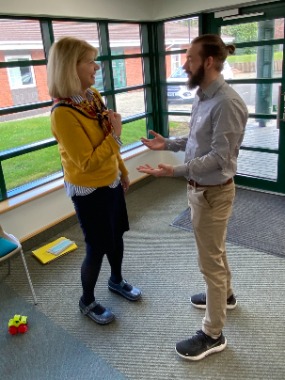 Derek Black, British Pageant core cast member from Ireland and Gloria Lloyd, Pageant Communication team member from the US discovered ancestral links through their participation in the British Pageant. Their forebears connected 184 years ago when Gloria's ancestor, William Clayton taught and baptised Derek's ancestor, William Black as a member of The Church of Jesus Christ of Latter-day Saints in Manchester, UK on 14 January 1839.
Both Derek and Gloria were happy to learn more about their early family connections when they met at the British Pageant auditions in Solihull, West Midlands.
"It's remarkable that the choices of our forebears can bring such blessings to our lives today. Meeting Derek at the auditions gave me a sense that I too was to play a role in the British Pageant though different from performing," says Sister Gloria Lloyd, a fulltime Communication volunteer for the Church.  
Derek says, "I feel connected to my ancestors, particularly William Black, the first Irish convert to join the Church. He was from Lisburn in Northern Ireland. After his baptism, William returned to Ireland and with John Taylor an early Church leader, performed the first baptism in Ireland in Loughbrickland in 1840. There is a plaque to his memory in the Hollywood chapel."
While related to William Black, Derek is also directly related on his mother's side to Martin Harris.  Another early Church leader, Martin Harris helped to finance the printing of the Book of Mormon in America and John Benbow helped to finance the printing of the Book of Mormon in the UK. Derek feels that it is not by coincidence that he portrays John Benbow in the British Pageant.
"The sacrifice and commitment to the Saviour of both William Black and Martin Harris, has permeated the life and culture of my family down to today," says Derek Black.
Another connection to the role of John Benbow is the fact that Derek was instrumental in helping to translate the Book of Mormon into Irish. "This experience," says Derek, "helped to create both a link with the past but also to solidify my own witness of the sacred nature of the text."
Participating in the British Pageant has not been without its challenges for Derek. "The Pageant has been a remarkable blessing in my life when I needed it most – like a balm of Gilead," he says. "This production is inspired."
One of the things he hopes for those participating in the British Pageant is that the stories of sacrifice, faith, and commitment portrayed, will strike a chord with someone in the audience. He says, "We can seek the wisdom of our ancestors and lean on that to guide our own lives and relate their experiences to help solve our modern problems."
The British Pageant performances will be Wednesday 2nd – Saturday 5th, and Tuesday 8th – Saturday 12th August 2023 on the Preston England Temple Grounds in Chorley, Lancashire.
Attendance is completely free of charge. Click here for tickets and more information.