In March 2018, York Interfaith Group enjoyed a warmly personable address from the Anglican Archbishop of York, Dr. John Sentamu.
Brother Mark Cosens, Leeds Multi-Stake Director for Public Affairs for the Church, helped to organize the occasion as he sits on the group's committee.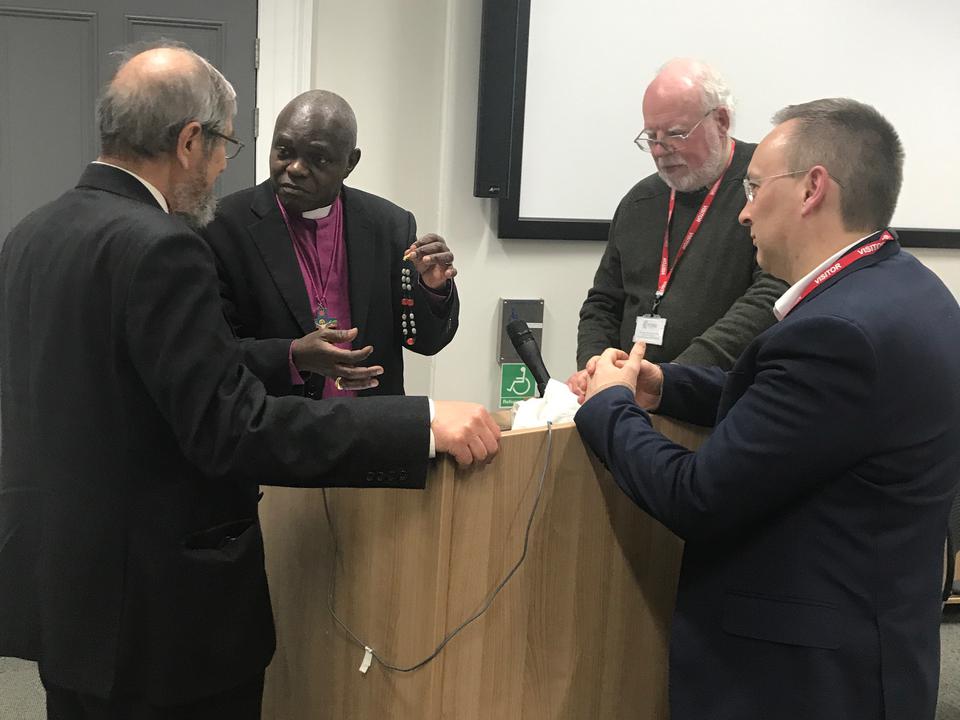 The Archbishop is known as Primate of England and Metropolitan and is a member of the House of Lords and a Privy Councillor.
From 1997 to 1999, he was Adviser to the Stephen Lawrence Judicial Inquiry and chaired the Damilola Taylor Murder Review in 2002. He also chaired the NHS Sickle Cell and Thalassaemia Screening Programme from 2001 to November 2013, supported and advised workers affected by the closure of the Rover car plant in Birmingham and campaigned against guns, knives, drugs and gangs throughout the Midlands, after the killings of Charlene Ellis and Letisha Shakespeare.
During the Archbishop's remarks in York, followed by an open Q&A session, he shared his experience of love and acceptance within his own childhood home in Uganda, which he shared with a Muslim foster brother and a Muslim foster sister.
Expressing respect for the religious freedom of others, the Archbishop encouraged Christians not to be afraid to speak boldly about their faith and to learn about other religions. Sadly, he said, "religious illiteracy is widespread", concluding that better religious education is needed.
Observing that sharing a meal together is "a holy thing to do", the Archbishop spoke positively about coming and standing together. Otherwise, he said "we can make false assumptions about each other".
Taking up a strong inter-religious theme, he shared his belief that all are made in God's image and likeness and that we ought to be able to look into the faces of others and see them as our brothers and sisters.
The Archbishop's visit stimulated extended conversations, including with Church representatives President Bill Kimberling of the York Stake Presidency (who shared Leviticus 19:33-34 with him) and Keith and Valerie Bishop of the National Public Affairs Council for the Church.
The Archbishop remarked to Brother Cosens that he remembered an occasion ten years previously, when he had shared The Book of Mormon and discussed it with the Archbishop on the way to the Post Office in his village near York.