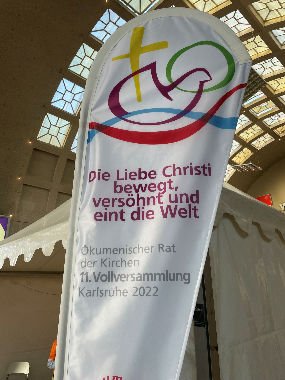 "We must never allow religion, which is intended to build up, encourage and edify people, to become a means to humiliate others, a tool of hatred and violence," said President Frank-Walter Steinmeier at the opening of the 11th Assembly of the World Council of Churches (WCC). These words by the Federal President of Germany were echoed by speakers throughout the event.
Delegates gathered in Karlsruhe, Germany, under the theme "Christ's love moves the world to reconciliation and unity" from 31 August to 8 September 2022. The WCC assembly is held about once every eight years. The last assembly in Europe took place in Uppsala, Sweden, in 1968.
The WCC is a fellowship of 352 churches from more than 120 countries. Members include most, but not all Protestant and Eastern Orthodox churches. The Roman Catholic Church sends observers to WCC meetings, but does not belong to the Council.
A member of the Europe Central Area Church Communication Department of The Church of Jesus Christ of Latter-day Saints attended this year's assembly as an accredited journalist. A representative of Church-sponsored Brigham Young University located in Provo, USA, with a special interfaith assignment was also present in Karlsruhe.