The faith's oldest extant chapel. The city where the first non-English edition of the Book of Mormon was published. The native home of Brigham Young University's spiritual architect. Numerous sites relevant to the history of The Church of Jesus Christ of Latter-day Saints are located in Europe. Those found across the Atlantic, many European faithful considered too far away to see for themselves. Until now.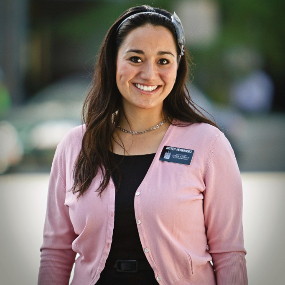 In response to the COVID-19 pandemic, the Church's historic sites have been closed for personal visits until further notice. Some have started virtual tours – free of charge.
Over the last few months, the women's ministry in Hanau in Germany signed up for three such tours. Most recently, members and friends of their congregation paid virtual visits to the Sarah & Hiram Kimball Home in historic Nauvoo and the visitors' centre at the Laie Hawaii Temple.
"I was surprised," said Katrin Zarse after the first online tour, which connected the group with Temple Square in Salt Lake City. "I had expected a circuit around Temple Square with some historical background information, but instead, there was a mutual exchange of spiritual and uplifting experiences. I was touched and encouraged by the tour rather than being merely informed and provided with some visual impressions."
"It was very nice to see how we were able to benefit from our missionaries, despite the distance and even though we didn't know each other," Zarse added. Virtual tours of Temple Square with missionaries can be requested by emailing tsguestservices@gmail.com.
"These sites can help open our eyes to the beauties of the principles of salvation and motivate us to embrace them with our whole hearts," wrote Jenny Lund, Director of the Historic Sites Division in the Church History Department.
"Students of modern-day revelation often find that events in Church history make more sense when a connection is made to places and settings where they occurred," she explained. "An obscure reference to Joseph Smith's office in the attic of the Kirtland Temple suddenly becomes clear when the place is pictured. It is easy to imagine Joseph or his scribes at work there."
All that is needed to participate in a virtual tour is a smartphone or computer and a stable internet connection. Most tour guides speak English only, some also have Spanish, Portuguese or Mandarin skills.
Besides those previously named, historic sites offering virtual tours include Joseph Smith's birthplace, the Sacred Grove where Joseph Smith had the First Vision in 1820, the Book of Mormon publication site, the Priesthood Restoration Site, Historic Kirtland, the Independence Visitors' Centre, Liberty Jail, the St. George Tabernacle, the Mormon Battalion Center at San Diego, and the Mormon Trail Center at Winter Quarters.