Members across the UK were glad to welcome The Singing Children of Africa into their homes during their visit in the Autumn, particularly in the week around their performance at the Derby chapel. The choir toured around the UK, spending time in local families' homes, during September and October. Those church members who welcomed children from the choir to stay were especially pleased to engage in giving them more service where they were able.
Sisters from the Loughborough Ward Relief Society gathered in the weeks before and during the tour to prepare hundreds of up-cycled school uniforms for the choir to take home on the plane. One local sister spearheaded the service project, touched by their humility and gratitude, and feeling like there was more to be given than just a place to stay.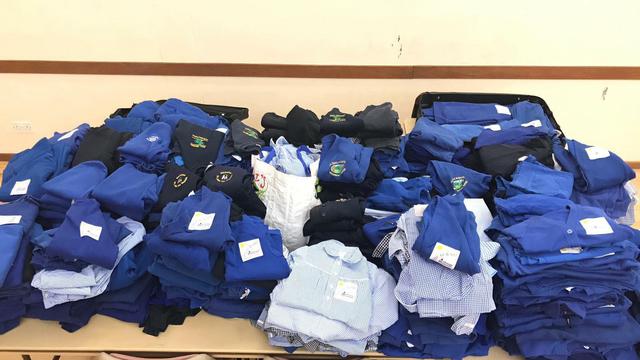 Blue school uniforms were collected from across the county, laundered in sisters' homes, and then collated; by the time they were done, there were around 700 dresses, polo shirts, jumpers and cardigans in total! Volunteers then gathered to help iron, pin and sew on badges over the old logos, giving the uniforms a new lease of life before sending them home with the choir in donated suitcases.
Most of those who got involved had no idea such a simple service was available - so often uniforms go to waste once children outgrow them!