This Easter weekend, London Live and KMTV will broadcast performances of The Tabernacle Choir at Temple Square. The 360-voice internationally recognised choir has performed at venues throughout the world, won multiple Emmy® and Grammy® Awards, and is heard by millions globally via their weekly broadcast. They are conducted by choral composer and arranger Mack Wilberg.
"If the message of Easter were reduced to just one word, that word might be 'hope'," said Lloyd Newell, voice of the Choir. He has found that "When things seem the bleakest, when all seems dark and despairing, it may be that a great light of hope is just about to shine forth."
One of the programmes, 'Light of Hope,' shares the rich bass-baritone voice of guest artist Joseph Barron. The Gabriel Trumpet Ensemble joins to proclaim the Easter message in 'The Greatest Miracle', and the Bells at Temple Square add grace to 'Light the Way'.
The Choir began in August 1847, a month after arriving in the Salt Lake Valley in the American West. Despite their humble beginnings, this small group of pioneers, many of whom emigrated from the United Kingdom, has grown to an internationally acclaimed choir.
The Choir, accompanied by the 200-member Orchestra at Temple Square and the magnificent Tabernacle organ, support the work of The Church of Jesus Christ of Latter-day Saints. United by their faith and collective love of music, these volunteers donate countless hours weekly to provide peace and joy to all who listen.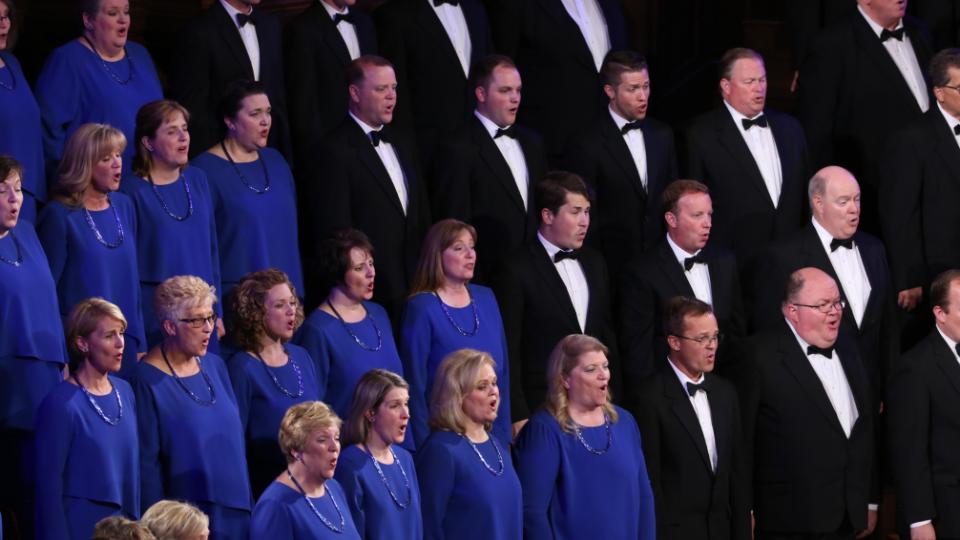 Their non-denominational Music and the Spoken Word airs weekly on more than 2,000 radio and television stations worldwide. It is the world's longest continuous network broadcast, having aired since 1929. Live broadcasts have been paused during the Covid pandemic, but the Choir continues to air past episodes weekly.
London Live https://www.londonlive.co.uk, the first dedicated free-to-air television channel in London, began broadcasting 31 March 2014. Their diversity and vitality reflect the excitement of this eclectic city, reaching more than 3.1 million viewers each month across the 32 London boroughs and the City of London.
The station broadcasts 24/7, airing a mix of comedy, feature films and children's titles. Additionally, they offer sports, news and occasional live specials such as red-carpet premieres and The New Year's Day Parade. London Live plan to air four Easter broadcasts:
            10am                        Friday            2 April                        The Greatest Miracle
            10:30am                   Friday            2 April                        Light of Hope
            10am                        Saturday        3 April                        Easter Miracles
            10am                        Sunday          4 April                        Light the Way
These may be accessed at Freeview 8, Sky 117, Virgin 159 and YouView 8.
KMTV, also airing the Choir broadcasts, was launch in July 2017 - a partnership between the University of Kent and KM Media Group. They offer a variety of live and pre-recorded programmes 24/7 to over 265,000 households in Kent and surrounding areas.
Located on Freeview Channel 7, Virgin Media 159 and online via https://www.kentonline.co.uk/, the station broadcasts classic films, comedy, children's programming, news, sports, outdoors, cookery and other topics of interest. They will air the Easter programmes on Sunday from 12pm to 1pm and from 8pm to 9pm.
Beverley FM 107.8FM radio Beverley FM have been trailblazers in the UK for Tabernacle Choir broadcasts, with programmes every Sunday at 8am for the past six years. They will feature the Easter broadcast on their station this Sunday.
The programmes will also be aired Easter weekend on the following radio stations:
Canalside Radio 102.8 FM Listen Live (Mobile) - Canalside Radio
Forest FM 92.3 TuneIn Popout Player
Future Radio 107.8 http://futureradio.co.uk/futureplayer/radioplayer/index.html
Islands FM 107.9 Islands FM 107.9 Listen Live | From And For The Isles Of Scilly
Radio Tircoed 106.5 Shoutcast Server
Radio Tyneside 93.6 Radio Tyneside Listen Live
Rugby and Daventry Player - Rugby and Daventry Radio Station, Midlands UK
Sheppey FM 92.2  Live Radio – Sheppey FM 92.2
Swindon FM 105.5 Listen (broadcast.radio)
Unity Radio 93.5 Unity FM live - 93.5 MHz FM, Birmingham, United Kingdom | Online Radio Box
Winchester Radio 94.7 https://tunein.com/radio/Unity-FM-935-s106521/
Shoreline FM 100.2 (unavailable on internet)
Listeners are invited to enjoy the Tabernacle Choir at Temple Square for a lovely celebration of Easter.