Performing at the age of 74, Karen Turnbull, a member of The Church of Jesus Christ of Latter-day Saints in Scotland, is experiencing her third British Pageant as one of the most seasoned performers. She first performed in 2018 and last year joined the cast performing in Nauvoo, Illinois, US.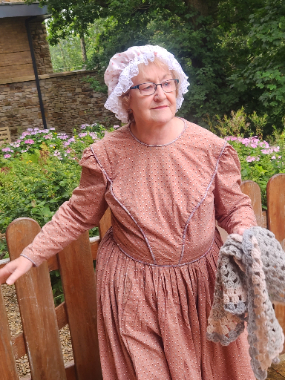 "In my heart I'm 32 and then I look in the mirror and realise I'm much older," she says with a smile. Karen and two other friends from her congregation in Glasgow, Scotland will join other cast members for this year's Pageant performances 2nd – 12th August 2023 in Chorley, Lancashire.
According to Karen, the story and music are powerful, yet each production has different staging, and with it, new experiences. She recalls enjoying performing outdoors last year in the US but not with the many mosquitos (as they would have also dealt with in the 1830's when the story takes place). Despite that challenge, she still feels the impact of the message in the production each time.
"I look forward to recreating this story and connecting with those who had the faith to sacrifice all for the gospel of Jesus Christ," she shared.
Speaking of her anticipation to perform again Karen looks forward to "reuniting with many friends from previous productions and feeling the 'buzz' you get from the audience each night. It's a real joy." She even keeps her skills in shape by taking dance classes with other close friends (including tap and various other types of dancing).
Fifty-four years ago, missionaries from the Church knocked on her mother's door and, thinking she would put them off, told them her daughter would want to talk with them, but she wasn't home. When they returned, she, her sister, and mother all listened to the message of the missionaries and later joined the Church.
When asked about her favourite moment in the production she quickly recalls the feeling she gets when the actor portraying Heber C Kimball testifies about the Prophet Joseph Smith. "I feel the Holy Spirit every time that scene is performed," she softly says. "I look forward to performing each night."