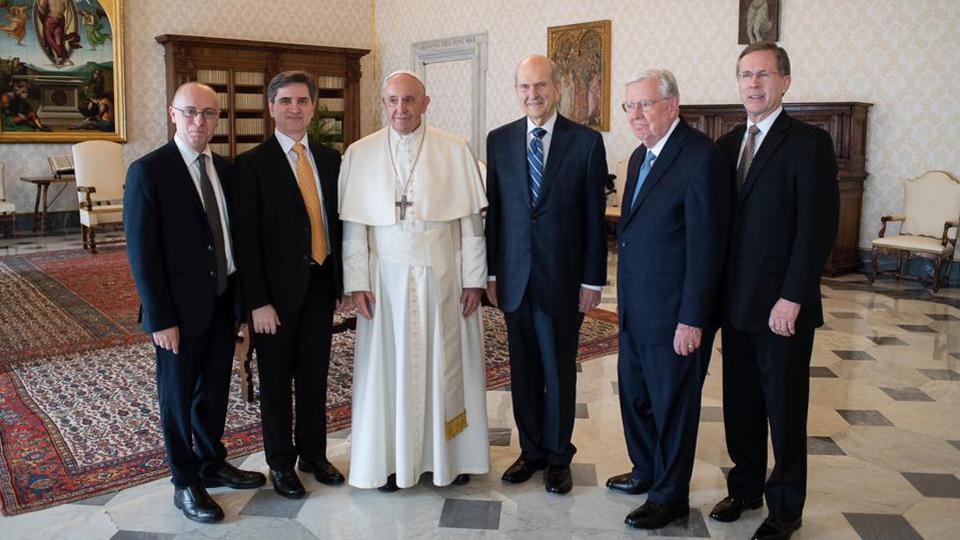 President Russell M. Nelson of The Church of Jesus Christ of Latter-day Saints met with Pope Francis inside the Vatican Saturday, the first meeting between a President of The Church of Jesus Christ and a Pope. The visit comes a day before President Nelson dedicates the Church's first temple in Rome.
President Nelson was joined by President M. Russell Ballard of the Quorum of the Twelve Apostles.
Interfaith dialogue has been a practice of Latter-day Saint leaders from the founding days of the faith. Since becoming leader of The Church of Jesus Christ of Latter-day Saints in 2018, President Nelson has engaged with Roman Catholic prelates during several of his ministry stops. In Texas last November, he met with Archbishop Gustavo Garcia-Siller of the Catholic Archdiocese of San Antonio. And last month in Arizona, he spoke to Most Rev. Thomas J. Olmsted, Catholic Bishop of Phoenix. President Nelson has engaged in similar outreach many times in his 35 years of service as an apostle, traveling to more than 130 countries to minister to Latter-day Saints and friends of the faith.
President Nelson was interviewed in October 2018 by Sergio Rubin, the biographer of Pope Francis, during a ministry stop in Uruguay. President Nelson and Mr. Rubin briefly discussed the Rome Italy Temple. "We appreciate the kindness of the pope and the Vatican. They are most gracious in welcoming us," the prophet said at the time.
Past interfaith dialogue between Catholics and Latter-day Saints at the Vatican includes President Henry B. Eyring (a counselor to the late Church President Thomas S. Monson) shaking hands with Pope Francis during a Vatican summit on marriage. In 2010, President Ballard visited Catholic leaders at the Vatican. In 1995, then-president Gordon B. Hinckley gave a copy of the Encyclopedia of Mormonism to the Vatican Library.
Catholic and Latter-day Saint leaders have also met in many other places. For example, in 2010 the late Cardinal Francis George (1937–2015), then the leader of the United States Conference of Catholic Bishops (USCCB), spoke at Brigham Young University and met with Latter-day Saint apostles. More recently, apostles have discussed issues of common ground with Cardinal Timothy Dolan, archbishop of New York. And several Catholic leaders have made visits to Utah. This includes Archbishop Joseph Kurtz of Louisville (then the president of the USCCB), who visited Temple Square in 2016, and Archbishop Charles J. Chaput of Philadelphia, who has spoken at Brigham Young University several times. In 2015, Archbishop Chaput invited Elder D. Todd Christofferson of the Quorum of the Twelve Apostles to share principles Latter-day Saints employ to strengthen families during the World Meeting of Families in Philadelphia.
In Utah, the Church has cultivated a strong relationship in recent decades with the Roman Catholic Diocese of Salt Lake City. President Ballard and Elder Christofferson joined Catholics in Utah for the installation of Bishop Oscar A. Solis, who was appointed by Pope Francis in 2017 to lead Catholics in Utah. "Latter-day Saints cherish the long-standing friendship we have developed with the Catholic community in Utah and around the world," President Ballard said at the time. President Ballard also attended the installation mass for Archbishop John C. Wester in Santa Fe, New Mexico. Archbishop Wester, Bishop Solis's predecessor, was the Catholic bishop in Utah for eight years.