UK fans of the world-famous Mormon Tabernacle Choir are now able to see the 360-member chorus's shows on their TV screens.
Christmas favourites will delight audiences over the Festive Season and the Choir's programmes will be run around annual festivals into 2016.
The shows are available on ShowBiz TV, available on Sky channel 266, Manchester Freeview 80 and TVCatchup  http://www.tvcatchup.com/watch/showbiz 
The first programmes air on December 12 – 'Christmas Favourites' (with Debrorah Voigt), 'Christmas In The Air' (with Tom Brokaw), 'A Dickens Christmas' (featuring John Rhys-Davies), 'Home For The Holidays' (with Alfie Boe), and then many more popular features to follow during December and beyond.
Programme summaries are available here: (Click Image to view)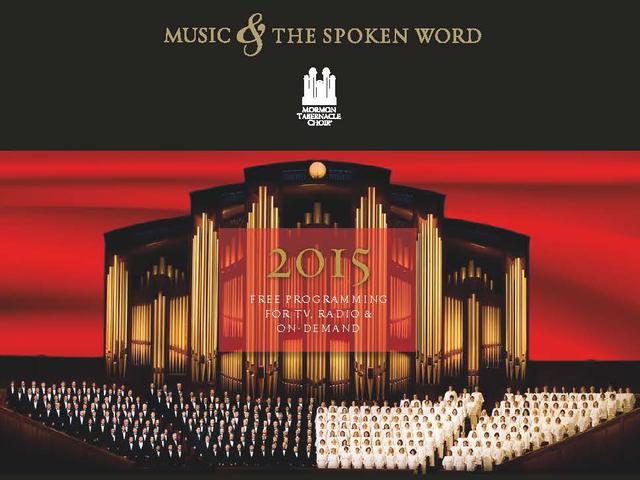 Following is the full list of the shows, with guest stars listed:
A Dickens Christmas featuring John Rhys-Davies
Christmas Favourites with Debrorah Voigt
Christmas in the Air with Tom Brokaw
Home for the Holidays with Alfie Boe
A Decade of Christmas
A Magical Season with Nathan Gunn
The Spirit of Giving with Jane Seymour
A Wondrous Christmas with David Archuleta
Carols Then and Now with Natalie Cole
The Spirit of Christmas with Brian Stokes Mitchell
Music from Messiah
A Tradition of Christmas
Rejoice and Be Glad featuring the King Singers
O Holy Night with Sandi Patty
Celebrate Christmas with Audra McDonald
A Christmas Celebration with Bryn Terfel
One Silent Night with Walter Cronkite
We Need a Little Christmas featuring Angela Lansbury
Sing We Now of Christmas with Gladys Knight
Reflections of a New Year
Beginning Again
The New Year
Hope of a New Year
A Time To Give Thanks
Tradition of Thanks with Stanford Olsen
Life Is a Gift
Expressions of Gratitude
Messenger of Peace, A Tribute to Nelson Mandela
Abundant Gifts
Easter Reflections
Hope and Light
Easter Celebrations
For more than a century, the Mormon Tabernacle Choir has given voice to the hopes, joys, trials and triumphs of a worldwide audience.  This lively choir of men and women, all volunteers, has performed at World's Fairs and expositions, at inaugurations of US Presidents, and in concert halls all over the globe.
ShowBiz TV is a general entertainment channel aimed at lovers of classic American and British TV and film. The channel is a nostalgic trip down memory lane for viewers who remember the classic shows from the first time round and is a wonderful surprise for newcomers.