A split screen, two young men. Their name tags easily identify them as missionaries of The Church of Jesus Christ of Latter-day Saints. A video of their lively interpretation of the 130-year-old gospel song "There is Sunshine in My Soul Today" in German is quickly making the rounds on the Internet.
Link to video (Facebook): https://www.facebook.com/justinwarnick111/videos/632763747288163/
Contact bans and stay-home orders are impacting missionaries of the Church of Jesus Christ as well. Prior to the coronavirus pandemic, they were out and about with a smile on their faces and a Bible along with a Book of Mormon in their hands to sparkle people's interest in the Christian message.
These days, they are working from their flats. Elder Justin Warnick and Elder Derek Church won't be stopped by the new circumstances. "We're making the best of it," explains Elder Church, the younger of the two at age 19. "We make phone calls or record videos to cheer up others and invite them to come unto to Jesus Christ."
Elder Warnick is 20 years old and has been playing guitar for ten years. He interrupted his studies of music at Utah State University for his two-year service as a missionary in Germany. For years, he has been producing his own music, which is accessible through a download provider and a well-known video platform.
Elder Church also has music in his blood. He sang on his high school choir – from classic to modern pieces. Both missionaries are from Utah in the United States, Elder Warnick from Providence and Elder Church from Lindon. And both are completing their missionary service in Germany, but not currently in the same city.
Despite the distance, they managed to implement the idea of a joint video. Some creativity was required. First, Elder Warnick picked up the guitar in his flat in Trier and sang along. Then, he sent the recording to Elder Church in Saarbrücken who added his vocals and played the guitar, as well.
"We wanted to create something together – in German. We chose this hymn because it conveys a positive message," Elder Warnick says. "It's one of my favourite hymns. The gospel brings joy and sunshine to my life. It's all because of Jesus Christ," Elder Church adds with a smile.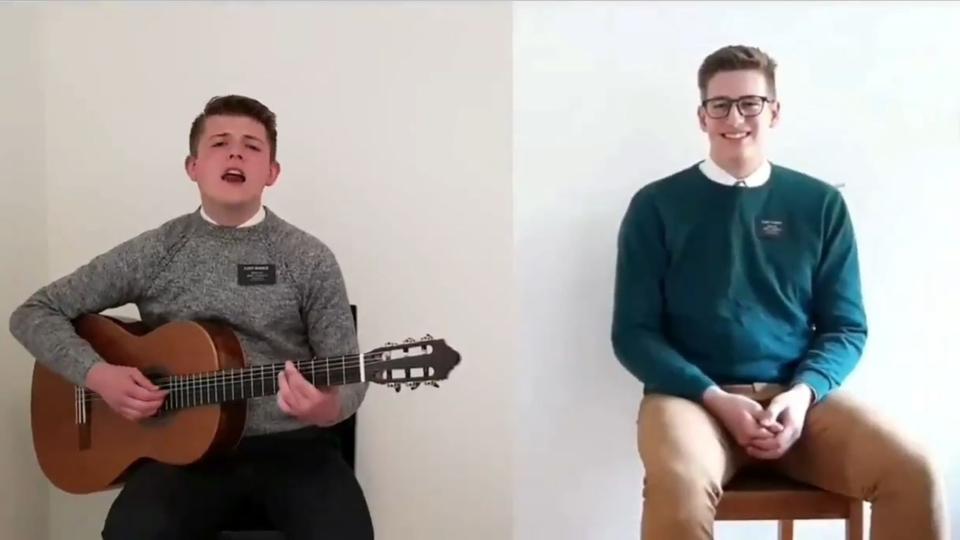 "Eine Sonne mir im Herzen scheint" is the German title of "There is Sunshine in My Soul Today", which was composed by John R. Sweney and first appeared in a collection of gospel songs in 1890. The lyrics were written by Eliza E. Hewitt. In 1908, the piece was included in the hymn book "Songs of Zion" and thereby entered the hymnody of The Church of Jesus Christ of Latter-day Saints.