As a Victorian event in Chorley commemorates early British converts to The Church of Jesus Christ of Latter-day Saints (Mormons) who emigrated to the United States, an American family has returned to the home of their ancestors to join the celebration.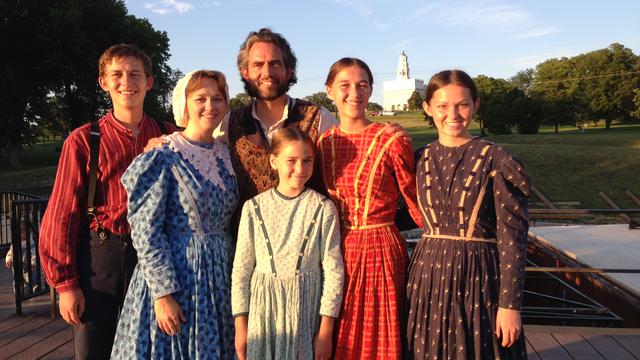 Robert Allen brought his family all the way from the United States to play Heber C Kimball – the first Mormon missionary on British soil – in the British Pageant.
"It's such an amazing experience and humbling to portray such a willing servant. He was nervous to come to a place with so much history to share the truth. And likewise, I feel my own weakness but am overjoyed to share the truth that has blessed me and my family," says Robert of the experience.
The stories told in the British Pageant, a musical experience that tells the history of the Mormon faith in Great Britain and Ireland, has special significance for the Allen family. Robert's wife, Norine, is a direct descendent of William and Mary Field. The Fields were part of the United Brethren in Herefordshire who heard Apostle Wilford Woodruff's preaching and joined the Church in 1840.
"I have the privilege of coming home to the Lancashire area to participate in the British Pageant. As a family, we have a great love for the home of our ancestors. There is a great feeling of familial love for this place," says Norine.
Mary Field Garner, William and Mary Field's daughter and Norine's grandmother, was known as "The Last Leaf" in Mormon history as the last living person to have personally known the Prophet Joseph Smith. Her personal recollections of the early days of the Church can be found on FamilySearch.org.
The British Pageant is currently being performed in Chorley until 12 August 2017 and is free to the public. Visit ldsbritishpageant.co.uk for more details.