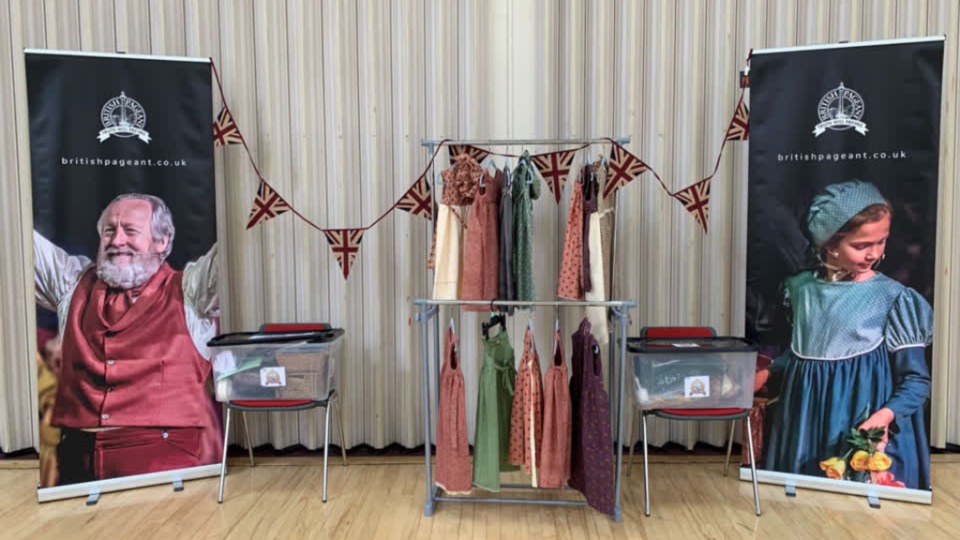 Excitement and enthusiasm for the British Pageant is growing as volunteers throughout the UK and Ireland combine efforts to make costumes for Pageant cast, choir members, and dancers. They have also served the community by repurposing older costumes into knot bags for the British Red Cross.
Jeannie Wills, Costume Lead, has organised multiple sewing workshops beginning in Lichfield, February 2022 to the most recent event at the Merthyr Tydfil Stake (diocese) of The Church of Jesus Christ of Latter-day Saints held 23 March 2023.
Over the last two years, more than three hundred women, young people, and men have donated their time and talents sewing hundreds of items for the Pageant performances in August. Additional 'production line' workshops are scheduled for the next few months.
Volunteers in Belfast, Northern Ireland sewed waistcoats. In Limerick, Ireland youth prepared ribbons for a celebration scene in the Pageant, and Glasgow, Scotland was the site for sewing buttons on men's trousers, ready to attach braces.
At the end of the workshop in Wales, Jeannie said, "I showed the women a sample of each of the items made on previous production days round the country. I am so grateful to be associated with individuals who are willing to give of their time and talents to the British Pageant. The costumes are an integral part of helping the performers send their message of God's love to participants and viewers alike."
"It has been a brilliant opportunity to serve, have fun and make new friends," she added.
President Theresa Williams, of the Merthyr Tydfil Stake Relief Society (women's organisation) said,
"A highlight for me was being shown the other items and finding out where they were made, the spirit of unity with our sisters from around the UK and Ireland was an unexpected blessing. It was the best day I could have hoped for!"
The British Pageant is free to the public and will be performed on 2nd – 5th and 8th – 12th August 2023 in Chorley, Lancashire.  For more information, click here.