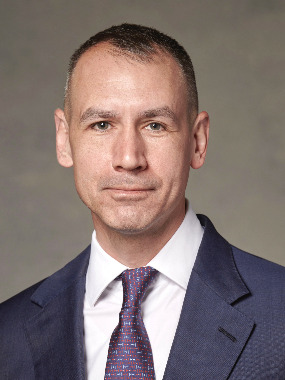 Newly called Area Seventy, Elder Robert F Schwartz from Chelmsford has learned that the important thing is not the church assignment you have, but the heartfelt testimony of the Saviour that you build and the service you give others. He says the Lord will show you your path if you seek Him in faith.
Elder Schwartz's parents joined the Church when he was a baby. After living in several places within the United States, his family moved to England when he was 12 years old. It was a very formative time for him. "I saw how a small number of very dedicated [church members] could make a big difference in the Church." He saw how that group of people developed strength in the gospel, starting with the rising generation. The people in that little congregation now serve to build the Manchester Stake (diocese) further.
He and his wife Amy met in Poland where they were serving volunteer missions. After they married, they moved back to Poland when Elder Schwartz received a Fulbright Scholarship, which enabled him to study there with a future judge of the Polish Constitutional Tribunal.
Elder Schwartz joined a law firm in London when he moved into law and finance. He is now the managing director UK of Tyrus Capital, which manages assets for institutional investors globally. He and Amy believed they would eventually end up in Poland, but the Lord led them to England. Elder and Sister Schwartz both feel like the Lord opens the right doors for all of God's children who live in faith. This can also mean that He closes some doors. It is important to recognize that some opportunities are not available to us because the Lord knows there is a better opportunity for us. As we try to live in faith, He will show us the right path.
Elder Schwartz has served in many capacities in the Church. He loved being a bishop (local congregational leader) and a stake president because he could interact with people in their happiest times and their hardest times. "These are the times when people invite you into a private sphere that is quite sacred," he says.
Elder Schwartz shares one of the best lessons: "We can all spend time building the kingdom. We have different assignments. The calling is not the relevant part. It is the path of discipleship that is important. Our personal conversion and our ministry to others is what we seek. Our callings are the wrapping that the Lord gives us for a period of time as a way to serve one another and become personally converted to the Gospel of Jesus Christ."