Dram "n" Jam or The Jammers, are a group of Glasgow, Scotland folk music enthusiasts that meet weekly to have a "wee jam" in a relaxed and friendly environment. Recently they met at the meetinghouse of The Church of Jesus Christ of Latter-day Saints on Julian Avenue, Glasgow for music and a barbeque. Visitors to the building were given a short tour and introduced to the family history centre located on the premises where members of the public can access a massive database of genealogical records, free of charge. The Church, often referred to as the Mormon Faith has long been associated with family history research and has created a free to use online programme called FamilySearch.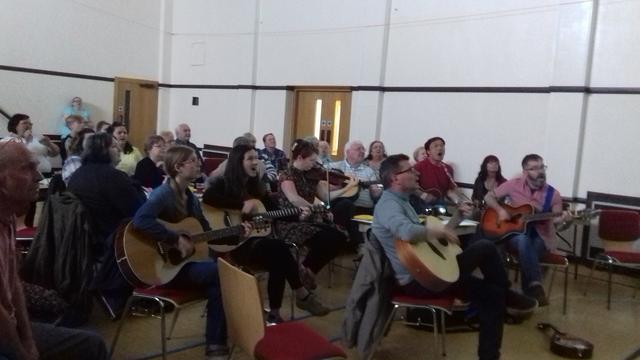 A simple meal was served, and performers arrived with guitars, flutes, banjos and cajons (hand drums). To make the session more enjoyable for beginners and visitors, the lyrics and chords were projected onto a large screen, a bit like karaoke, and those who wanted to, sang along.

Jim Loftus, a member of the church in Glasgow and a Sunday School teacher said, "What great energy! I really enjoyed the evening, it was a fun event, and the group may meet at the church building again".