Up to one thousand young adults from across Europe, members of the Church of Jesus Christ of Latter-day Saints, are expected to help host the events of the 2023 Special Olympics World Games in Berlin.. The Church is sponsoring them in a Europe-wide young adult service conference. The games and service conference will be held 16-25 June 2023.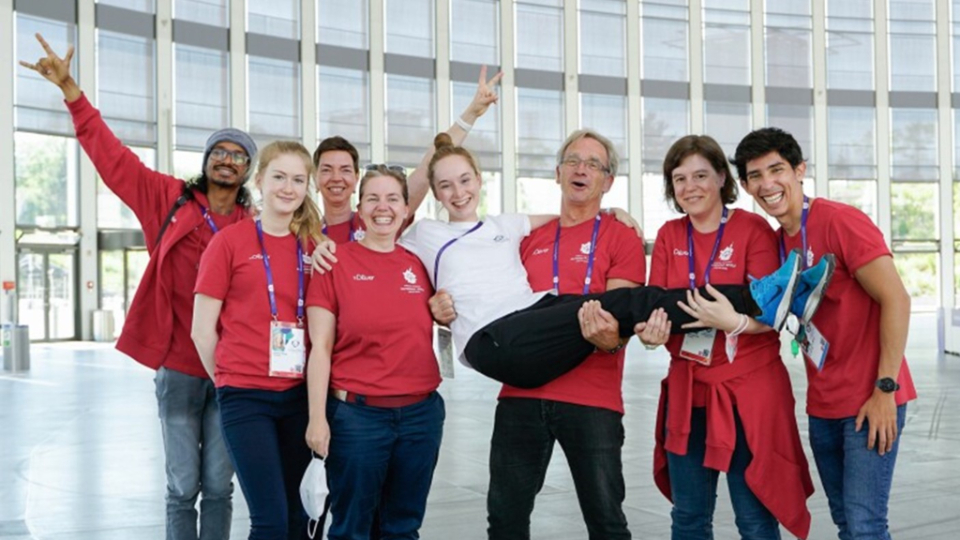 In a recent letter to young adults across Europe, the Church's Europe Central Area leaders stated: "One of our divine opportunities and responsibilities is to follow our savior Jesus Christ by serving our fellow men. This conference will provide an unforgettable opportunity to serve and celebrate some of our Heavenly Father's wonderful children who are often sidelined."
Twenty-five-year-old Berlin resident Tabita Aversa was one of 35 German young adults who volunteered for the Special Olympics German National Games in Berlin this past June.  She described the experience as "Worthwhile!  My favorite memory is that on Wednesday night, we had a party for the volunteers and athletes, and we were able to just dance and have fun together."  She reports she has already signed up as a volunteer for the 2023 Special Olympics World Games.
This volunteer service requires a sacrifice of both time and money for young people aged 18-35, who are busy with school, work, relationships and making a living.  Participants will travel to and from Berlin at their own expense. They will there receive housing, meals, training by the Special Olympics, and be required to serve at the Games for five days, or ten days if they so choose. They will serve as volunteers at the Special Olympics events during the day and be able to engage in church-organized activities in the evening, including dances, devotionals, workshops and further socializing.
Young adults of other faiths or no faith are also welcome to join in this unique service conference, say the Church's Central Europe area leaders. All volunteers must speak either German or English and are asked to adhere the Church's standards of conduct during the conference. All further information, including participating at the service conference and sign-up for volunteering at the Special Olympics, can be found here.
" Just do this!" says Aversa.  It's going to be so worth it and you're gonna get to know some amazing people and get to know their story.  The experience and memories that you make you will take with you for the rest of your life!"
In their recent letter, the Church of Jesus Christ's Europe Central Area leaders continue: "We are excited for our young adults across Europe to join this wonderful gathering of service and friendship. As we follow the example of Jesus Christ in love and serving together, we know it will become a blessing for everyone involved."
The Special Olympics World Games is the largest inclusive sports event, where 7.000 athletes with intellectual disabilities compete together in 26 sports. Up to 20.000 volunteers are called to help from all over the world.