Around 7th February, storm Ciara hit the valleys of the Rhondda and Taff rivers, closely followed by storm Dennis, over the weekend of 15th and 16th . In a few days this area of south Wales experienced about 125% of its normal monthly rain. Water levels in houses and other properties reached up six feet inside. Pontypridd, sited close to the confluence of the two rivers was especially badly hit.
Some properties damaged by these floods were not insurable for such risks. But the outcome, of such commonly-known 'acts of God', were the wonderful acts of God performed by full-time missionaries, as well as local members of the Church and local communities, over the three or so weeks that followed the peak of those floods.
Full-time missionaries Elders Farar and Pricer were confronted by the devastation as they stepped out into the street in Pontypridd, in their suits, early on Monday 17th. They immediately stepped back in, re-emerging in clothing more fit for the task that lay ahead of them. They raised the alarm with Church leaders and immediately went around asking people if they needed any help.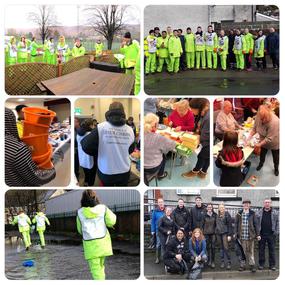 Mission President David Hughes, of the England Birmingham Mission, deployed other missionaries from neighbouring zones. Over the next three weeks about 50 or so missionaries were involved; up to 25 on any one day.
President Jason Spragg of the Cardiff Stake put matters in the hands of the Stake Clerk, Paul Baker.  Paul's skillset and experience, particularly in crisis-management logistics, made him most suitable for leading the Church's response.  
The Town Council in Pontypridd mobilised an operations centre in the Trallwn Community Centre.  Paul spent most of his time over the ensuing three weeks at the Centre, from where support was deployed all over County Borough of Rhondda Cynon Taff (RCT): up the Rhondda to Pentre, up the Taff to Treforest, and down to Taffs Well.  The Centre collected and distributed supplies, mostly donations, as well as provided a place where residents could come to seek support.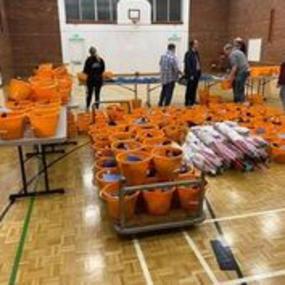 Paul, in an article he wrote for a local magazine (RCT Link), said, "We were able to use the many members of our Church who are professional social workers, doctors, paramedics, nurses, teachers etc."  These included Deb Barry, a member of Caerphilly Ward, a humanitarian-aid specialist for Save the Children.  Paul said, "I was guided by her, and she by me.  She was fantastic."  
Help included, "clearing out houses and shops, removing sewage-covered debris from streets, preparing food delivering meals, providing sanitisation products and offering emotional support in the form of hugs and a listening ear."   Many thousands of hours of effort were logged by volunteers (about 5,000 by the missionaries).
Church funds were used to purchase thousands of gloves, hundreds of plastic boxes, hand sanitisers, bottles of bleach, rubble sacks, as well as feminine hygiene packs, nappies, and food; even a printer and a fridge for the Centre.
Paul 'painted a picture': "After each day the group of tired, exhausted, emotionally and physically drained volunteers would sit together in the evening at the Centre and reflect on how they were going to do a better job the next day."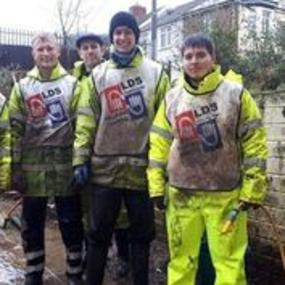 For many of the missionaries it was a rewarding but challenging experience – including cleaning up after sewage-system overflows and disposing of dead pets.  
Lending an ear to the worries of affected residents and offering emotional support were typical of the love provided.  "It's been tough", said Paul Baker, but of "profound effect in the Pontypridd community", said President Delve of the Cardiff Stake Presidency.
Church missionaries have been constantly waved at and positively accosted as they moved around Pontypridd.  One Church member expressed the feeling that at times it was almost like being in the Temple, as everyone diligently worked together to clear up.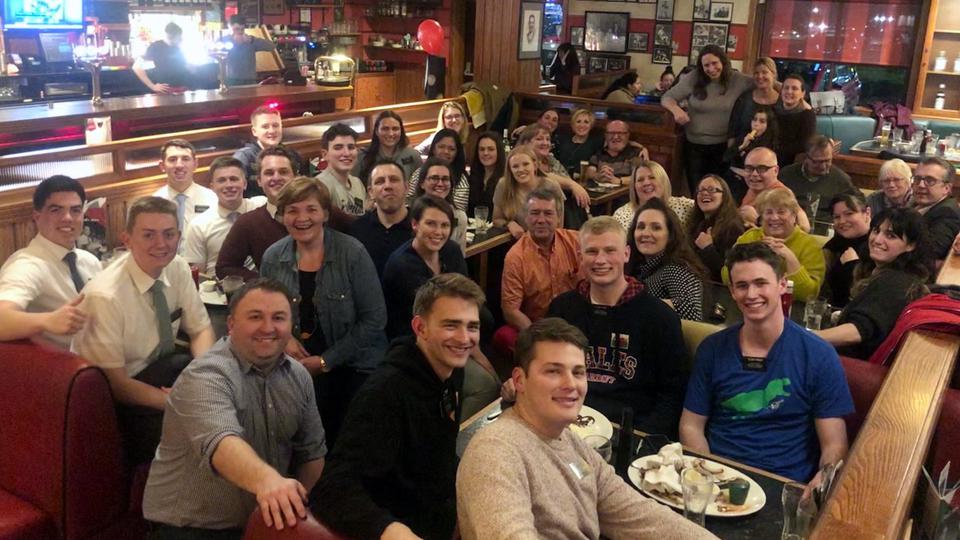 On Monday 9th March, members of the Pontypridd Town Council took the missionaries out for an evening of ten-pin bowling and a meal at the local Ben & Jerry's in Cardiff. Cardiff Stake is planning to present the Town Council with a framed Helping Hands bib, signed by all the involved full-time missionaries.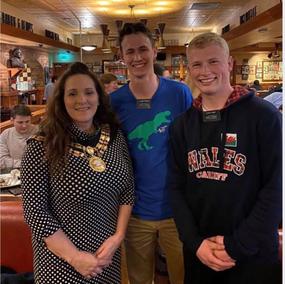 Elder Pricer, says of his experience:
"I don't think I really understood why I came out on my mission.  [But] through inserting myself into the community of Pontypridd, that question has been answered.  I'm here to help people.  These past two weeks or so have been the most influential in my life.  I want to serve.  I'm addicted."
Elder Farar adds:
"I have done a lot of reflection in the last couple of weeks as I served my community.  We're changed and they're changed.  That's what the Saviour wants."