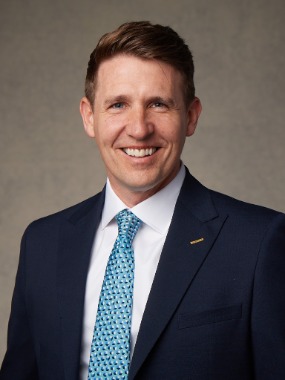 Elder Mark G. Stewart, new Area Seventy from Richmond, North Yorkshire is a humble and devoted servant of the Lord who loves life and loves to laugh. He is also a cancer survivor and marathon runner.
He was diagnosed with follicular non-Hodgkin's Lymphoma, a cancer that requires lifelong treatment. "Even when you are trying your best to live your faith, you will still face challenges. We accept the challenges and move forward positively," says Elder Stewart.
He was encouraged to take up running as part of his responsibility as a charity board member for his company. Despite his health problems and with a warning from his doctors, he prepared to run in the London Marathon. After successfully completing the marathon, he became a dedicated runner. He has come to value the lessons learned from long-distance running. It reminds him of the scripture in Hebrews 12:1-2 ". . . and let us run with patience the race that is set before us[.] Looking unto Jesus the author and finisher of our faith. . ."
Shortly after returning from his voluntary mission for the Church, Elder Stewart's son Jared was diagnosed with a brain tumour. Due to COVID-19 regulations, they had to leave their son for treatment at the hospital entrance and walk away. It made Elder Stewart think about how hard it must have been for Heavenly Father to send his Son into the world to suffer for us. Their family witnessed a miracle as their son's tumour was successfully treated.
Elder Stewart says we are each given a stewardship and we need to run our race with positive momentum. "And whatever comes up, we are grateful stewards. We face those challenges one at a time. Even when we get stitches or cramps, we move forward. We try to leave whatever we've been given slightly better than when we found it." He says that some callings stretch us and help us to grow. Others fit us better so we can add more value and help others grow, but, he says, "Wherever we are serving we can do it with enthusiasm, faith, and generosity of spirit."
Elder Stewart is a partner in the world's largest environmental consultancy, a Dutch firm called Arcadis. He and his wife Ailsa, a talented musician, have four sons – Ethan, James, Jared and Aaron. He has served as a bishop and stake president. Elder Stewart was serving as FSY session director with his wife Ailsa when he was called as an Area Seventy, a senior Church leadership assignment within the Europe North Area.